(Written Jul 26, 2011)    
Our 19-1 Karmic Rut is the holding pattern that contains everything we did not learn – and everything we need to know – in order to evolve into a new and more peaceful form of existence. 19 exposes hypocrisy and atrocity, so that healing can occur.
1 is the number of beginnings. 9 is the number of endings..1 is the first number – from which all other numbers are formed. 9 is the last number in the numerological spectrum and contains the energies of all the other numbers. (1+2+3+4+5+6+7+8 = 3+6 = 9).
Add 1 and 9, and we have 10 – the number of significant change, innovation, and advanced solutions. When we convert the 1 and the 0 into a single digit, we go back to 1 again, but this time around, our understanding of 1 has evolved. Notice that 1 is the number that all the other karmic numbers, (13/4, 14/5 and 16/7) have in common.
1 takes.  9 gives.
The karmic energy of 19/1 is teaching us about the power of 'give and take' – compromise – individuals pulling together for the common good. And we are also seeing the deadlock that forms when the gap between 'give and take' is out of balance, in which case compromise simply cannot work. 1 is the number of self-interest. 9 is the number of giving — and something really really does have to give before greed destroys everything.
1 is the number of progress, but we are at a point in the human journey where we can progress no further until we gain the power that comes from better understanding ourselves; from knowing who we are and why we are here. 9 takes us backwards – into the past – so that we can learn whatever we failed to learn from past experience. 1 is the number of SELF.
Much of what we have to learn now is reflected in history, especially the 1800s (19th century), and the 1900s (20th century). History is repeating itself – yet again. All that's changed are the fashions and the technology. The brutality, the greed, the wars, the imbalance, and even some of the names are the same. In all that time, we have not progressed very far at all.
The more we learn about ourselves, personally and collectively, the more aware we become of just how long and hard humanity has suffered over the course of time. Surely, by now, we have learned enough from our mistakes to want to transform this heartless patriarchal/industrial system into something that is based on love, not profit.
In the last two decades, people have learned a lot about how this system works – which is the first step to releasing ourselves from it. 1 is the number of new beginnings. 9 is the number of letting go.
1 is the number of THE SELF, 9 is the number of ACCEPTANCE. Therefore 19 offers major lessons in SELF-ACCEPTANCE. This means loving ourselves fully and unconditionally. It means recognizing our potential and finding ways to fulfill it within this physical lifetime, while respecting the rights of other individuals to do the same. Self acceptance is inner peace. It is the only means of there ever being peace on Earth.
Our inability to break through our limitations and actually reach that point is reflected in the number 19 – and manifests in the form of our own IGNORANCE – our tendency to IGNORE anything that could result in our having to feel emotions we do not like to feel. Our own ignorance does not want to get involved with anything that could upset, disturb, or inconvenience us in any way.
Ignorance is not bliss. On the contrary, ignorance is lack of awareness. When we ignore reality, our denials keep this cruel and ugly system going, and we shrug it off as 'human nature'. This hell on  Earth in which people are reduced to mere 'units of productivity' is not the result of human nature. It is the result of human nature captured in the darkness of denial. There is no such a thing as a 'necessary evil'.
Denial is a numbing place to be in. A dumbing experience. When we do look at reality and truly feel it and empathize, and react with our feelings, people tell us to keep everything 'positive'. They say, 'Don't let it get to you. That's just life.'  But, if we are awake and aware, it gets to us anyway. That's conscious life!
"Letting it get to you… you know what they call that?  Being alive!"  Doctor Who: "The Doctor's Wife"
A lot of things are going to 'get to us' as we continue our evolutionary journey out of denial into the openness of Free Will. It is not a matter of thinking positively or negatively. It is a matter of thinking and responding – realistically.
We are evolving in many ways, but most noticeably, we are evolving emotionally. We are realizing how powerful life's feminine energy is, rather than how weakening we have been led to believe it is. 19 reveals the extent to which we have been 'led' to believe many things. When misinformation grasps the mind, rational thought cannot form, and the dumbing down process is firmly in place.
We have been programmed to believe that fear is the problem, when in reality, our rejection of what fear has to teach has created so many of the problems we now face on Earth. We must gain a deeper understanding of natural emotions such as fear, and all their layers, circuits, triggers, and forms of expression. It is not enough to speak of fear as if it has only one frequency, meaning, or purpose. Fear of WHAT? We need to be specific.
Sorry Franklin Roosevelt, but 'the only thing we have to fear is fear itself' is not quite true. When the messages that fear sends are correctly understood in any situation, they can alert us to potential harm and even save our lives! Misunderstanding of fear has caused many to believe that 'fearlessness' is the only way forward when in fact it is nothing more than fear of fear.
Fear is a vital part of our complete emotional range. But we do have to learn how it works so that we do not become paralyzed by it. Our blanket resistance to feeling this particular emotion is so magnetic that it is attracting the very things we fear the most but do not want to look at, talk about, or acknowledge.
Terror is denied fear, manifest. We need to face our fears so that we can pay attention to what really does require caution on our part, and learn to let go of fears that are irrational and unnecessary.
When we accept our fear of having personal power, denial loses its grip and cannot suck us back in. Each of us has power, which the system uses for whatever its purpose happens to be at any given time.  This system RUNS on the power of human energy. We give it away – we give our Will away without knowing how to survive otherwise. And right now, because the system is collapsing under the weight of its own greed-ridden top-heaviness, it is trying to suck us all dry.
By ignoring our feelings and relying only on what we 'think', we cannot release ourselves from this self-defeating and pointless system, in which the only consistent purpose appears to be WORK – and the pressure that comes from having to compete – often referred to as the 'rat race', in reference to the rat's undignified scramble for survival.
The Will of humanity – the will to live – the survival instinct – is rising in the form of emotional energy. Our base chakra is awakening and we are starting to give it consciousness. Not that consciousness likes this state of affairs. Consciousness does not want to feel fear, or anger, or grief, and given the choice, consciousness would only feel what feels pleasant to it and discard everything else. Indeed, that is exactly what we have been doing throughout the ages. But, now, as one age evolves into another and we realize just how divided and broken we are as a species, consciousness is expanding as a result of the vibratory messages that our feelings are transmitting to it.
No one can bring us the enlightenment we need. There are no pills, therapies, or gurus for this. If we cannot make the connection for ourselves, in our hearts, we remain disconnected and we don't evolve. It is this personal association that frees the Will of an individual. As our emotional journey continues, we are going to feel our feelings strongly, no matter how hard we try to fend them off, but we can take comfort in knowing that all that feeling is helping us evolve and become whole.
The 19-1 Karmic Rut exposes the selfishness that is in all of us. But in some, selfishness has reached the most dangerous proportions in which nothing else matters but the fulfillment of one's own personal desires and ambitions.
As we watch our so called leaders reach impasse after impasse, and create crisis after crisis, we realize that we individuals are not meant to be led, and the purpose of government is not to control, but to create a level of balance that will facilitate humanity's evolution into Free Will and openness. Until we do eventually learn what 19/1 has to teach, leadership as we know it will repeat episode after episode of brinkmanship, fear-mongering, dictatorship, and WAR. We must develop what it takes to independently lead our own lives. If we don't own our own lives, we have nothing.
1 is also the number of independence – which does not mean isolating oneself from others. In fact, independence is best achieved through friendly and cooperative connections. We all need to soften our hard edges when it comes to our relationships, and let others see our vulnerabilities as well as our strengths.
19-1 karma manifests in our lives by making even our closest relationships feel uncomfortable, or in some way disadvantageous, because we are so concerned about how others may judge us. We are going to learn that judgment is a very big problem in the world and is preventing progress to a huge extent. Judgment is what guilt and blame are made of – neither of which can coexist with love. Guilt and blame seek punishment and revenge which serve only to perpetuate hatred. Love, on the other hand, seeks forgiveness and healing.
Love is the ultimate feeling. Love is experienced through feeling. Love IS feeling.
The entire emotional range from the highest high to the lowest low reflects love's response to experience. By denying our emotions, we deny love the chance to heal itself. Denied emotions prevent forgiveness, which is the healing balm itself.
In unevolved 1 energy, we believe that competition is the way forward, but in reality it is competition that keeps this karmic roadblock in place. If we are to learn from history, we will see that competition – the need to win at all costs – is the basis of greed and war. 19/1 reveals a part of us that is never satisfied. We always want more. We want to outdo others, no matter how much we've already got. Comparing ourselves to others rather than simply being ourselves is the problem here – and it's all related to competition.
When we left the 1900s and entered the 2000s, life's vibrations changed significantly. The masculine era of competition and war ended. The feminine era of cooperation and diplomacy began. But we cannot make progress until we recognize our new position in the journey and make the necessary inner shift.
1 is the number of SELF and therefore relates to EGO, which is one's sense of self, or self awareness. Ego is a sacred inner mechanism that enables us to recognize oneself as oneself, rather than some 'label' that judgment has placed on the individual. Instead of blaming the ego for everything that goes wrong, we must HEAL the ego and allow it to balance itself between over-inflation or deflation so that it can evolve with the rest of us. Until we do, the great imbalance between those who feel superior and those who feel inferior can only deepen. This misunderstanding of ego can be seen quite clearly among those who impose great hardship on the masses for the purpose of increasing their own power and wealth.
19-1 reveals hidden matters for the world to see in which the indignity of being 'unmasked' is suffered by those involved. If, even then, they continue to act self-centeredly, other problems will arise to compound the original problem. This is happening now as scandal after scandal sheds more light on the hidden aspects of this terribly imbalanced system we live in. Eventually, we will realize that the 'hierarchy' on Earth is a façade, and that all human beings share the same strengths and weaknesses and are subject to the same karmic principles. Until we understand 19's lessons of balance and equality, we will be unable to independently plan for the future – or our plans will always be subject to the whims and dictates of others.
It is not simply a matter of creating a more 'even playing-field'. That just changes the rules of the 'game' but leaves in place the principles of competition and the fight between individuals to out-do each other.  If we are ever to be the 'ONE' that so many of us insist we are meant to be, we must see competition for what it is: rivalry, the assumption of superiority or inferiority, judgment, and ONE-upmanship.
Let's elevate ourselves out of the deep groove of conditioned thinking and herd mentality and become Originators again…instead of Imitators.~Oshum
We are not simple beings. We are thinking, feeling, multi-dimensional marvels, the depths and heights of which some people are so afraid of exploring that their life's work is to keep everyone numb and dumb. There are those who will do anything to prevent humanity's evolution towards peace, love, and understanding, because there's nothing in it for them… (other than survival, of course, but they don't see that).
We must be patient with ourselves and each other. We must be patient with the pace of our progress and with the details that come to light when we move more deliberately and consciously. Remember that nature moves to the rhythm of whatever time it takes…
---
PLEASE SUPPORT THIS WORK by making a donation – large or small. This will help to offset the costs of this ad-free site and keep it available to everyone. Thank you so much.     DONATE HERE
---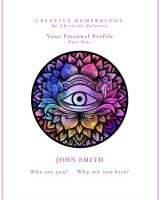 WHO ARE YOU?  WHY ARE YOU HERE?  WHERE ARE YOU GOING?  This profile will help you to understand your purpose for being here at this precarious evolutionary time in the human journey, what you have to work on, and what you have to work with. From  $95.00
---
---
CREATIVE NUMEROLOGY YEAR BOOK – Your Journey Through The Cycles Of Time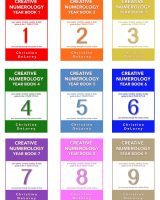 You can get a whole year of Monthly/Weekly/Daily Forecasts (with all the calculations made for you) in your own CREATIVE NUMEROLOGY YEAR BOOK. Written specifically to help you steer your way through these extraordinary, unpredictable, evolutionary, and often frightening times, each book contains inspiring daily, weekly, and monthly forecasts for your specific yearly cycle. Your Year Book will be used and appreciated every single day for the entire year ahead..
This is a 9-book collectable set. Buy one book – or more – or buy all 9 books and get one free. (Free Book does not apply to Kindle).
If you don't know which Year Book to order, use the contact form on this website to send me your MONTH AND DAY OF BIRTH, or the birthdays of those you wish to buy for, and I'll get back to you as quickly as possible.
---
Buy the classic numerology book: LIFE CYCLES: your emotional journey to freedom and happiness  HERE     (Available in PAPERBACK or KINDLE)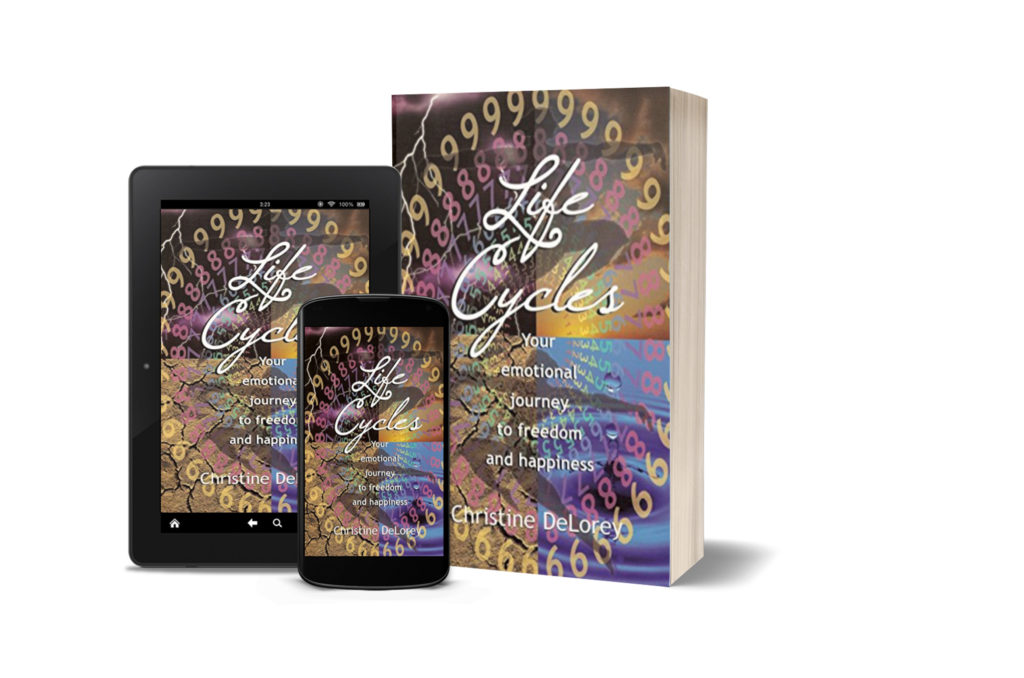 ---
LIFE CYCLES – FRENCH VERSION
LES CYCLES DE LA VIE – Broché
Acheter le livre de numérologie classique : CYCLES DE LA VIE : votre voyage émotionnel vers la liberté et le bonheur – ICI
---
All of my books are available in most countries that have Amazon. Just search CHRISTINE DELOREY. Here are some links: