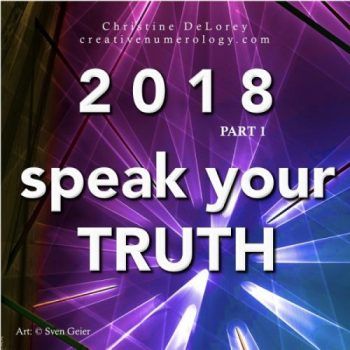 SPEAK YOUR TRUTH is a fitting mantra for this year. The 11/2 energy of 2018 connects with the 2 energy of the 2000s, offering us the potential to move beyond the limits that this old collapsing system has imposed on our hearts and minds – and on our ability to express ourselves.
The combined vibrations from 2, 0, 1, and 8, are raising our empathy and compassion, and demonstrating just how powerful kindness and caring can be. Without this counter-balance, we remain trapped in this wave of cruelty and destruction.
Evolution transforms potential into being. We evolve through our ability to face reality, learn, adjust, let go of the old, and become the change we desire. But the chaos and confusion of such large-scale transformation, with its constant drama, immaturity, and existential threats, can prevent us from making the inner changes needed to bring change to the outside world.
So we remain prisoners of this antiquated system, unaware of our true potential as human beings – a system that still refers to us as the human "RACE" – which provides the very foundation of racism. The human race is the system, not our species.
We HUMAN BEINGS are also referred to as "consumers", and for as long as this focus on materialism consumes our lives, we have no WILL of our own. We have to pay to live – and live according to the rules of a system that is ravaged by hate and greed. It is in such denial of reality that it does not even realize that self-destruction is its nature. The system thrives by destroying our main source of feminine energy, MOTHER EARTH herself, without which humanity cannot exist in physical form.
However, the chaos is also activating our emotions – our own feminine energy – our WILL – the vibrations of which are opening our masculine minds. Our ability to FEEL is all that keeps us from becoming permanently enslaved.
This upsurge of feminine energy is making us more AWARE and ALIVE; more able to open our hearts, expand our consciousness, and put right what is wrong. It enables us to imagine NEW possibilities from a more loving, creative, and realistic perspective – and to more deeply understand how powerful we can be when masculine MIND and feminine WILL work together – as equals. Without that, we exist partially, not fully.
Speak your truth
In January, we are moving through the monthly vibration of 3.
January = 1
2+0+1+8=11=2
1+11=1+2=3
3 is the number of communication, and reminds us that everyone has a story to tell. So you must speak your truth among others who are also speaking their truth. 3 also represents appearances, illusion, the stage, creativity, attraction, popularity, people, happiness, good times, fashion, gossip, the arts, entertainment, peer pressure, insecurity, and fear of rejection. We are plainly seeing the results of our 'reality TV' culture, and how easily manipulated we are by pettiness and hearsay. 3 is known as the number of SHALLOWNESS. But that is only because the way we are living has prevented us from experiencing 3's opposite end – DEPTH. Now is the time to communicate on a more profound, honest, and effective level. Speak your truth. Speak from your heart. Being honest with yourself in this blatantly dishonest world has a magic all its own.
January's powerful 11 1 12 3 vibrations emphasize the importance of being able to sense what is true and what is not – and to act in the present based on how it will affect the future. When mind and emotion work together – intelligence expands. Therefore, although the age-old battle to suppress the feminine continues, feminine energy is moving into a position of equality anyway. This balance can only bring clarification to our minds, healing to our biological bodies, AND EQUALITY ON ALL LEVELS. The peace within then reflects as peace in the outer world. Balance is equality. Balance is fairness. Balance is justice. And "No justice, no peace" is a major truth in itself.
We are each having our own unique experience. The experience of BEING who we are inside, in physical form. This is why it is SO essential to understand what the human WILL is …. and that without FREE Will, we cannot experience life fully, or reach our full potential. The WILL is our feminine energy – emotion – feeling – sensation.
The domination of the world by male energy has created this mighty imbalance, the spin of which gives the impression of turning reality upside down and inside out. 2 is the number of transparency. And now, as the 11/2 energy of 2018 joins forces with the 2 energy of the 2000s, it will be much easier to see through the subterfuge and lies.
As more truth is revealed, the more desperate and dangerous those who are hiding the truth are likely to become. And yet the potential here is to move beyond the easily manipulated 'information age', and enter the age of TRUTH. Again, speak your truth is an ideal mantra for 2018.
The 11/2 energy of 2018 will shine its light into the shadows. 11/2 illuminates. 11/2 informs and clarifies. 11/2 raises the power of intuition and insight. 11 reveals what we most need to see. 1+1 gives us 2: the number of cooperation, patience, connection, caring, nurturing, diplomacy, fairness, and the importance of detail. 11/2 makes us sensitive, but at the same time helps us to turn our sensitivity into heightened intuition and courage.
Of course, this is the energy within us all that the system is trying to destroy. The energy of FREE WILL. But as January's 3 vibration moves you into deeper waters, you will be able to understand complexities that once eluded you. In turn, you will be able to speak your truth with much more confidence.
Meanwhile, all over the world, those who are insane enough to want to control everything are telling us that only THEY can be trusted; Don't trust the media. Don't trust your own feelings and instincts. Don't trust anyone but them. This is an age-old tactic of tyrants and despots. The 11/2 energy of 2018 will help us to trust ourselves on a level we have not known before, and BECOME the balance our world so desperately needs. 11/2 gives us courage. 1 is the number of SELF, and we cannot evolve into 2 (1+1=2) until we understand just how powerful we ourselves actually are.
The Master Number 11/2 is so informative, so powerful, so complex, and so transformational, that it will take more than just one article to describe it. I will be writing much more about this as the year unfolds. In real time, I am sure we will learn many new things about 11 – how this 11 year connects to the 11:11 year of 2020 – and Master Numbers in general.
To be continued…..
---
Buy your personal YEAR BOOK or oder a PERSONAL READING